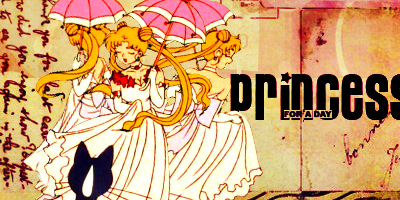 Challenge 10: SM 22 - Romance Under the Moon! Usagi's First Kiss!
Thanks to the suggestions made by the lovely
goddess_of_ice and
ashlerose, challenge 10 is from the first season of the anime.
Please keep the suggestions coming. I want to make this community a success, and your input is integral.


Fan FIC/DRABBLE prompt:
-Because of its parallels to the ballroom dances held in the Moon Kingdom, this is a good episode to play with flashbacks. We know that Tux was thinking about that reoccuring dream, but what of Usagi? Did the setting trigger any sort of memory?
-What of the Naru & Nephrite encounter? Perhaps you may want to explore that further?
-What if Ami & Rei did manage to crash the party? Would they have spoiled all of Usagi's fun?
And remember, you can actually write about any aspect of the episode you feel fit. The prompts are only a guide.


Fan ART prompt:
Did you see those awful dresses Rei and Ami got stuck with? Can you improve on the design? Do you just want to draw them in different outfits all together?
Come to think of it, Naru's dress wasn't so hot either. No wonder no one wants to dance with her.


Random Suggestion:
You know what might be hilarious to start seeing at the community? DEMOTIVATIONAL POSTERS! For each challenge! C'mon, that'd be a lot of fun.


Need Resources?
Hitoshi Doi's Episode Summary
The Oracle


Got a question? Send me a message.


Full fanwork rules and details.


Challenge Ends: May 30th, 2009